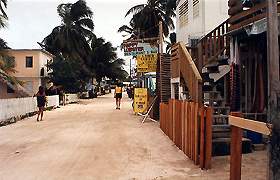 Coming in by air - The easiest method of travelling around Belize is by air. Caye Caulker is located approximately 15 minutes by air from mainland Belize. Hourly flights from the Philip Goldson International Airport as well as the Belize City Municipal Airstrip to Caye Caulker are provided by the local airlines Maya Island Air and Tropic Air. There is no international air service direct to Caye Caulker. Continental, American and TACA fly into Belize City from a number of U.S. gateways. (see above). Charter flights from large U.S. and Canadian cities are sometimes available during the winter.

For a recent (April 24, 2000) Associated Press article on visiting Caye Caulker, click here!

International travelers fly into the newly renovated and expanded Philip Goldson International Airport in Belize City. From there, connections can be made to various destinations within Belize, including: Caye Caulker, Caye Caulker, Corozal, Dangriga, Big Creek, Placencia and Punta Gorda; as well as to Mexico, Guatemala and Honduras. Travellers already in Belize City should utilize the smaller Municipal Airport for in-country flights, as costs are much lower. Charter flights can also be arranged to off-the-beaten track destinations as there are many private airstrips throughout the country.
Getting here from the United States:
Miami, Florida.- American Airlines or TACA International Airlines.
Dallas, Texas - American Airlines
Houston, Texas - Continental Airlines or TACA
Houston, Los Angeles/Long Beach, Miami, New Orleans and San Francisco/Oakland - TACA
All flights are less than 2 hours and cost approximately $350-400 plus tax.
From Mexico:
Fly from Chetumal to Belize. 20 minute flight.
Fly from Cancun to Belize. Aeromexico (Aerocaribe), a regional Mexican airline, provides nonstop service between Cancun and Belize City. Air service from Cancun is now just 2 days a week, Sat & Sun - CUN to BZE 10:45A - 12N and BZE-CUN 12:30P - 1:45P. $254 R/T pp (cheapest) I have taken this flight and it is about 50 minutes. This is quite convenient since there are flights to Cancun from almost anywhere in the States.
First class bus to Chetumal, Mexico (Mexico-Belize border). Connect with a Batty Bus from Chetumal to Belize City . Total traveling time: 8 hours. Bus tickets are approx. $50.00 return.
From Guatemala:
Aerovias flies from Guatemala City to Belize City (Monday, Wednesday and Friday) $75.00 one way/$150.00 return. Approx 1 hour 20 minutes.
Maya Island Air and Tropic Air from Tikal/Flores, Guatemala to Belize City. Each airline has 2 flights daily. $US160.00 return.
Southern Guatemala-Ferry or boat from Puerto Barrios or Livingston, Guatemala to Punta Gorda, Belize. Daily shuttle boat run by Requena's Charter Services Telephone: (501) 07-22070 or e-mail watertaxi@btl.net departs Puerto Barrios daily at 2.00 pm. Cost $10.00 each way. (Return boats each morning at 09.00 am.) From Punta Gorda airstrip there are regular flights to most Belizean destinations.
From Honduras:
Roatan, Bay Islands-Caribbean Air. Saturdays only. Approx US$158.25 return.
Caye Caulker Sula-TACA approx $180.00 return.
From Europe:
There are currently no direct or same-day connecting flights from Europe to Belize (and none that are planned at present). The most convenient route is via Miami or Houston with an overnight stay on the outbound leg only. Return flights from Belize connect with overnight flights from Miami and Houston to London and other European destinations.
British Airways has started direct flights from London to Cancun one day each week (Monday). Again, arrival time does not co-incide with flights from Cancun to Belize so an overnight here is necessary.
Depending on the season, day of the week and airline chosen, round trip tickets from London to Belize range from £450 - £700 plus taxes which can be as high as £50. These are the UK and USA departure taxes but do not include the Belize Departure Tax which can only be paid in Belize (see below).
Belizean Airlines Offering In-Country Service:
Two Belize airlines, Maya Island Air and Tropic Air, have many flights daily to Caye Caulker from both Philip Goldson International Airport in Ladyville about 9 miles north of Belize City and Municipal Airport in Belize City. One-way fares are approximately US$24 from Municipal and US$42 from International, and twice that for round-trip. A taxi from International to Municipal is about US$15. Most hotels on Caye Caulker will arrange for your air travel to the island at the time you make your hotel reservations.
Maya Island Air: tel. in U.S. 800-521-1247; in Caye Caulker, 501-22-2012, or 26-2945 e-mail mayair@btl.net; schedules at www.AmbergrisCaye.com/islandair/ Scheduled flights and private charters.
Tropic Air: tel. in U.S. 800-422-3435; in Caye Caulker, 501-22-2040; e-mail tropicair@btl.net. Scheduled flights and private charters.
Caribee Air Service: (501) 02 44253. Private charters only.
Javier's Flying Service Ltd: (501) 02 35360. Private charters only.
Regular international services are maintained to the United States (Miami, Houston, Dallas), Mexico and Central America by TACA, American and Continental Airlines. The Belize International Airport is located 10 miles (16 kilometres) from Belize City.


After deplaning from your flight at Philip Goldson International Airport outside of Belize City, you will pass through Belize Immigration showing your passport and the immigration card you filled out on the airplane. Your baggage will come out on the belt. There are several porters to assist you with your bags. They will carry your luggage to the customs area for you. If you are handling your own luggage just proceed to customs. More often than not, a customs officer will open your bags, or ask you to do so. After clearing customs, go into the main terminal.

If you are dressed for cold weather, this is an opportunity to change into more comfortable clothing. (The dress code on Caye Caulker is shorts, t-shirts, tropical blouses, swimsuits, sarongs and cool islandwear - shoes are optional. The locals hardly ever wear shoes.) Only light clothing is required the year round nnd should preferably be washable. Light, informal tropical clothing is recommended except for hunting trips. For jungle excursions to the mainland, the thick forest growth and the possibility of insects should be taken into account.


Most travel packages will include vouchers for flights to the island. Check your baggage and go to the departure lounge. Flights leave hourly and are scheduled to correspond with the arrival of the major carriers (TACA, American Airlines and Continental).
They fly into Caye Caulker until sunset or about 4:30 p.m. There are no lights on the Caye Caulker landing strip. If you miss the last flight out to Caye Caulker, you can always try to catch the last water taxi that leaves Belize City at 5:00 p.m. You can make a reservation but it is not really necessary.
The flight from International takes around twenty minutes and is spectacular. If you fly low enough, you can see the manta and sting rays and coral formations as you approach the island.
Visitors coming to Belize in private aircraft must obtain permission to land at the Belize International Airport from the Chief Civil Aviation Officer 48 hours before the scheduled time of landing. Pilots of private aircraft will have their documents inspected, and must file the normal flight plan. Landing fees are based on the weight of the aircraft and are charged per 1,000 lbs. Parking fees are also charged per 10,000 lbs.
Caye Caulker Airport
Both Maya Island Air and Tropic Air service fly into Caye Caulker Airport. Flights run on the average hourly to and from the island.


Tropic Air is the oldest Inter-Belize air service in this country. It also has a connection, via Ladyville International Airport with Tikal in Guatemala. Both Caye Caulker Airstrip air carriers have regular daily flights to seven major destinations throughout Belize and "On-Demand" stops can be arranged at airstrips on island and resort hide aways scattered throughout the country and along the barrier reef.
Both Maya Island and Tropic air services have connections to the Phillip Goldson International Airport in Ladyville where Continental, Grupo TACA, American Airlines make daily stops on their routes to and from the U.S. and Canada and most of the Caribbean and Central and South American countries that Pan American Airlines left when it ended service to Belize. One final caveat about the Phillip Goldson International Airport... it is the hub for international arrivals and departures only. If you intend to air travel around Belize - don't go through the International Airport. Air fares to that terminal are literally double those of Belize Municipal Airport. The Belize Municipal Airstrip is located in Belize City, ten miles from the International Airport, and is the central hub for all inland flights within the country of Belize.
Coming in by sea -
Visitors to the Caye can also travel from Belize City by water taxi. These are open speedboats with outboard engines with the ride lasting approximately 45min. or slightly more depending upon whether there are stops at the other islands in between. The Caye Caulker Water Taxi Association has a fleet of over 17 boats that are equipped with life vests. The boats are equipped with VHF radios and are in compliance with U.S. Coast Guard safety requirements. Each boat holds anywhere from 25 - 50 passengers. The main departure terminal for the water taxis to Caye Caulker is located at the Belize Marine Terminal located at the foot of the swing bridge in Belize City. Visitors can purchase tickets for the water taxis there. Boats leave Belize City to Caye Caulker (with "on demand" stops at St. George's Caye or Caye Chapel) at 9:00 a.m., 10:30 a.m., 12:00 noon, 1:30 p.
Departure time from Caye Caulker to Belize City are at 6:30 a.m., 7:30 a.m., 8:30 a.m., 10:00 a.m., 12:00 noon, 3:00 p.m. with a final trip to the City at 5:00 p.m. on weekends and holidays.


This is the cheapest way to Caye Caulker, approximately $7.50 U.S. one way or $12.50 U.S. for same day round trip from Belize City. Ask anyone when you arrive in Belize to direct you or take a cab. Everyone knows these boats. The ferry is first come first served.
These boats are extremely reliable so don't wander off close to boarding time. Boarding time is 15 mins. before departure. The Caye Caulker Water Taxi Association also offers scheduled water taxi ferry to San Pedro, Ambergris Caye. This ferry service too, is also very reliable.

The water taxi association also offers charter trips to out islands and serves as the ferry of choice for incoming cruise ships. For more information, contact Wendy at Caye Caulker Travel and Tours.


Caye Caulker Water Taxi Association Schedule:

9 boats, some are partially covered
Water taxis will stop at St. George's Caye and Caye Chapel to drop off and pick up passengers on request.

Call 226-0232

The Tourism Village has a brand new terminal at the mouth of the Belize River with plenty of free parking for taxis, busses and autos. Clean bathrooms – no charge.

Ticket prices:

Belize City to Caye Caulker One way - $15 bz. per person Round trip - $25 bz. per person Travel time approx. 1 hour

Belize City to San Pedro One way - $25 bz. per person Round trip - $45 bz. per person Travel time approx. 1-1/2 hours

Departs from San Pedro Texaco Marina stopping at Caye Caulker and arriving at Belize City Tourist Village
7 a.m., 11 a.m., 12:30 p.m., 2 p.m., 4 p.m.

Departs from Caye Caulker Municipal Dock on the back side of the island and arrives at Belize City Tourism Village
7:30 a.m., 8:15 a.m., 11:30 a.m., 1 p.m., 2:30 p.m., 4:30p.m.

Belize City Tourism Village to Caye Caulker & San Pedro
8:30 a.m., 10 a.m., 11:30 a.m., 2:30 p.m., 4:30 p.m. (last boat that goes all the way to San Pedro), 5 p.m. (to Caye Caulker only)

* all prices are in US $ per person over 10 years, children 5-10 years half price, large or caged pets $2.50

Coming in by land:
Overland, the journey to Belize by all weather roads takes 3 to 6 days from Texas, and 5 to 12 days from California. On entering Belize, motorists should bring along their driver's permit and certificate of registration. You need a Temporary Import Permit for your Car upon Crossing Mexican Border- get it from a Belizean Customs Official. You also need drivers license and certificate of auto registration to enter Belize. Third party or liability insurance is mandatory and can be purchased at the border. Driving is on the right. Sufficient funds for stay and onward travel also required.

If you want to drive from Cancun or other spots along the southeast coast of the Yucatan, The roads between Cancun and the Belize border are paved, two-lane all the way and quite easy to drive (at least as of two years ago). The distance is about 350 miles (583 kilometers) and I drove it in about 8 hours. You take highway 307 south from Cancun almost to Chetumal, then 186 into Chetumal or the Belize border cutoff. I would be leery of trying to cross the border with rental cars, though you can park them in Chetumal or Corozal if you are heading back the same way. There is no rental car return in Chetumal.

Once in Belize, holders of foreign driving licences are required to have a temporary driving permit which is obtained upon application to the Chief Licensing Officer in Belize City. The temporary permit is valid for 90 days. Holders of international driving licences are not required to obtain a temporary driving permit. No overnight parking in any public place is allowed.

You can also get a nice, clean, air conditioned bus with rest rooms and reclining chairs (maybe even a bar and TV!) that run non stop between Cancun and Chetumal. To do this, you must take two buses. From the main terminal in Cancun center, the ATS company runs air-conditioned buses to Chetumal (near the Belize border). The main bus station is in Cuidad Cancun just off Avenida Tulum (the main drag in Cancun City) at the traffic circle at Avenida Uxmal (Oosh-mall). The fare is roughly US$10, and they run about five times a day. The trip takes almost five hours. The earliest departure is around 6:00 a.m., which gets you to Chetumal in time to catch the second "Premier" service (Batty Brothers) bus to Belize City. ADO's site at http://www.adogl.com.mx lists their deluxe services and there just one departure at 16:30. However they have first class services at 00:30, 06:30, 08:00, 12:00, 15:00, 17:00, 23:00 and 24:00. These stop at some or all of: Playa del Carmen, Tulum and Felipe Carillo Puerto.

At the Chetumal terminal, you will find a Batty Brothers Bus Line counter where you can buy tickets to Belize. Batty's runs several times a day to Belize City. Two of those are the "Premier" service, an express, air-conditioned bus with snack service. The Premier departs Chetumal at 10:30 a.m. and 1:45 p.m. The fare is US$6, and the trip takes about 2 hours. They also run regular buses about every hour and the fare is US$4.50. Bear in mind that these buses make numerous stops and can add a few hours to your journey to Belize City. Phone Batty's in Belize at 501-2-72025 & 73929, for more details on schedules and reservations.

We've done the Cancun to Belize bus thing a few times. There are 2 different classes of transportation, express and regular service. The express ticket will cost about $15, U.S. The express service will take you about 5 hours to get to Chetumal, where you will change busses and the Batty Brothers bus can take you into Belize. Busses from Cancun leave about every hour, but I'm not sure what their nighttime schedule is. ADO is the most popular bus line. However, the first bus from Chetumal into Belize doesn't leave until 10 a.m. That ticket will cost only a few dollars. Make sure you exchange enough money in Cancun for the return trip because the bus terminal i Cehtumal only takes pesos, and if the exchange is closed you're at the mercy of the gift shop. You can take a flight from Corozal to Ambergis Caye, and not have to go all the way into Belize City. It will be a fete to get all these different company schedules working though. You might end up with a "layover" in Chetumal or Corozal. If you end up stuck in Chetumal overnight, we stayed at the Ucum, for $10 a night and a $3 cab ride. Clean and quiet, its around the corner from the more expensive Holiday Inn, and down the street from the Mayan Museum. We ate from the food carts also, with no problems. The flight from Corozal was $24 U.S., and it shaves about 3 hours off your travel time. If you go all the way into Belize City you can take a water taxi to San Pedro from the marine terminal for about $12.50 U.S. Not being familiar with the downtown Belize City area I would recommend taking a cab for $4, from the bus terminal to the Marine terminal. If you ever get stuck in Belize City and are looking for budget accomodations, try the Seaside Guest House. Its run by the Friends (a Quaker Organization), you can stay in a dorm-style room for $8 a night or have a private room for $12 (I think) a night. All rooms share the baths.

Buses depart out of Belize City for most of the major towns (Corozal, Orange Walk, San Ignacio, Belmopan, Dangriga, Punta Gorda) and border towns in Mexico and Guatemala.
Battys: (501) 02 74924
Novelos: (501) 02 77372
Venus: (501) 02 73354
Z-Line: (501) 05 22211 (operates out of Dangriga)
You can also get a taxi to drive you if you want to do a little sightseeing along the way. ..about a 7 hr drive straight thru ... not sure on the cost but probably 5 times that of the bus. You can also make your own arrangements on arrival with the licensed taxis which vary in standard from superb sedans to a vehicle that would not look out of place on a banger race track - after the race! Agree on the price before you depart and check whether they are quoting US or Belize dollars.

We've done the Cancun/Belize bus trip a few times. In our area, we can get some incredible deals to Cancun, as low as $176 RT from Detroit on the charter company (Northwest MLT). After arriving in Cancun and clearing customs and immigration, go to the shuttle bus/van ticket counter and purchase a ticket to the Bus Terminal (there is only one bus terminal). The busses to Chetumal leave Cancun about every hour, make sure you take the First Class (Premiere Classe) or Express bus, this leg of the trip takes 5-1/2 hours.However, if you get to Chetumal after 6-6:30 p.m., you'll have to spend the night, or go to the Nuevo Mercado (New Market) bus station and take a Venus bus (which is similar to the old style Bluebird School Busses). WHen crossing the border, ask the bus attendant to help you get a double entry stamp on your tourist card (costs 50 pesos) if you do not receve this you will have to give up your tourist card at the border and repay the $25 u.s. exit tax for Mexico again when you return to Cancun. (this tax is paid at any Mexican Bank, you pay the tax and they stamp your new tourist card.) I believe the earliest first class bus with Batty Brothers Bus Line into Belize leaves around 10 a.m. In Chetumal we stayed at the Hotel Ucum, for $10 plus a $3 cab ride. It was very clean and quiet, right around the corner from the more expensive Holiday Inn, but one block from the Mayan Cultural Center. When you return to Cancun via bus, remember to hold on to some pesos, because the bus companies will not accept U.S. or Belezian currency, and we had the misfortune of being there when the exchange was closed. We got the convenience store to exchange money for us, but at a much lower exchange rate, kind of a racket going there. If you get to Chetumal too late for the Beize bus, you can hire a cab to take you to Corozal, just over the border. If your ultimate destination is Caye Caulker, don't forget that you can fly from Corozal, and you don't have to go all the way down to Belize City. For a database of bus schedules within Belize, click HERE.

- - Lee Kroll, Frequent Traveler to Belize



Caye Caulker.org Home | Search | Island Information | Quick Facts (HELP!) | Goods & Services | Diving
Fishing | Lodging | Tours | Photos | Message Board | History | Activities

© Copyright Island Girls