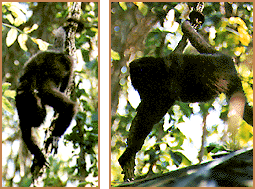 There are many beautiful tours in the land of the Mundo Maya. This incredible civilization left huge remains that are accessible through incredible jungle forest. Many types of birds, reptiles, and plants and flowers of incredible diversity await you.

Bring your binoculars, and get some good ones. With this once in a lifetime treat, you will not want to miss anything! Take a walk through the pyramids of the Yucatan, and marvel at the wonders of this advanced civilization.

Our island guides can also take you birding, or manatee watching, to the Altun Ha or Lamanai ruins. We can take you out for a remote island picnic. Go diving at the Great Blue Hole. We will give you adventures you will never forget.

Caye Caulker.org Home | Search | Island Information | Quick Facts (HELP!) | Goods & Services | Diving
Fishing | Lodging | Tours | Photos | Message Board | History | Activities

© Copyright Island Girls