TOURS
Day Tours Originating in Belize City (Return water taxi would be additional):
The prices below do not include 8% government sales tax
Altun Ha & the Olde Belize River
Full Day Tour
Price: $95 U.S. per person (Includes lunch, refreshments, and entrance fee to sites)

Depart by boat from Belize City by 8:00 a.m. as tour embarks on an enjoyable river cruise up the historic and scenic Olde Belize River. It is not unusual to encounter several troops of Black Howler monkeys relaxing in the jungle canopy by the river bank, and look for elusive crocodiles basking in the warm sunlight. You can also see iguanas, several varieties of birds, and numerous flora. River cruise lasts approximaely 3 hours. A lunch stop (box lunch) is made in Burrell Boom. After lunch, your tour bus and professional guide will accompany you to the Mayan Ruins of Altun Ha (Mayan for Rock Stone Water). You will learn the captivating history of this site where the famous Jade Head of Sun God Kinich Ahau was uncovered by David Pendergast of the Royal Ontario Museum. Altun Ha was once a major trading center linking the Maya on the Caribbean with Central American mainland Maya. It is also reputed for a variety of birdlife. Tour lasts approximately 1.5 hours. Board tour bus for return drive to Belize City.


Lamanai & The New River
Full Day Tour
Departures: Daily
Cost: $135.00 U.S. per person (Includes lunch, refreshments, and entrance fee to sites)

Lamanai is located on the New River Lagoon and was once the largest Mayan ceremonial site in Mesoamerica. An hour's drive fromBelize City, along the northern highway, brings you to your destination, the Toll Bridge on the New river (at Tower Hill). Here you board a riverboat for a leisure tour of this beautiful river, with its mix of rainforest and mangroves, orchids, and prolific bird life. Enroute you can see elusive crocodiles, turtles, and birdlife -
hawks, kites, falcons, and dainty jacanas. The river is lined with hardwood trees with lots of orchids and bromeliads. Once on the shores of the New River Lagoon, you will be served a Belizean style lunch under the shade of cabanas. You will then explore the ruins of Lamanai -- Mayan for submerged crocodile. Huge masks depicting dead rulers and gods seem to materialize out of the rain forest, amid the chatter f the bird life and haunting call of the howler monkeys. You will visit the "Temple of the Masks", one of the tallest Mayanstructures; the stucco mask of the Sun God "Kinich Ahau"; an elaborate carved stellae; and the "Temple of the Jaguar Masks". Your guide will point out the Copal and Ramon trees, which were of great importance in ancient times. The jungle trails betwen the temples provide more opportunity for spotting birds. Toucans are frequently seen and troops of Howler Monkeys inhabit the park area. Following the tour, you will have an opportunity to visit a small on-site museum that offers an array of interesting "finds". You are returned by boat to Tower Hill, and then to board van for return drive to Belize City, then water taxi back to Caye Caulker.


Cave Tubing
Full Day Tour
Departures: Daily
Cost$ 135.00 U.S. per person (includes lunch, refreshments, and equipment)

Depart from the water taxi terminal for transfer to the lush tropical forests of Belize. Our destination is the Caves Branch River and its winding path through the Maya Mountains and numerous ancient caves, once inhabited by the Maya. On arriving at Jaguar Paw Resort, your headquarters for the day, be prepared for a 45 minute hike down a jungle trail where your guide will point ou the various plants, roots and herbs once used by the ancient Maya for medicinal purposes.


The entrance tunnel which heads into the underground cave system is the start of an "eye opening" adventure.
Your guide hands out flashlights, and you are ready to float in inflated inner tubes with gentle currents taking you through the river's cave system.


Intricate crystalline formations line the caves and the majestic rise and fall of stalagmites and stalactites add to the serene opulence of nature. On several occasions you will emerge into the sunlight only to eneter into another cave system. This part of the adventure lasts about two hours. At the end, whet your appetites with freshly prepared Rice and Beans and savory chicken!
Afternoon at leisure. Return drive to water taxi terminal, and taxi ride back home.

Community Baboon Sanctuary
Half Day Tour
Departures: Daily
Cost: $75 U.S.

Pick up at the water taxi terminal in Belize City and depart by 8:00 a.m. for a drive up the Northern Highway to Mile 13 at the Burrel boom junction, then anothr 17 miles to Bermudian landing where the Community Babood Sancturay is located (1 hour drive). Embark on walking tour on nature trails. Black Howler monkeys are an endangered species found only in lowland forests from Southern Mexico to Honduras. Known locally as baboons, this smallmonkey has a call that can be heard for over a mile. The village of Bermudian landing is the base of operations for the Community Baboob Sanctuary which consists of over half-a-dozen villages in the area, and is voluntarily maintained by over 100 farmers. They agreed to maintain corridors of jungle along the borders of their fields and refrain from cutting down trees that are vital to the howler's survival. Depart Bermudian Landing at 11:00 a.m. for return drive to Belize City.


Crooked Tree Wildlife Sanctuary
Half Day Tour
Departures: Daily
Cost $75 U.S. per person (Includes bottled water and entrance fees)

Pick up at the Water Taxi terminal and depart by 7:30 a.m. for drive up the Northern Highway (one hour). Enroute you will view savannahs, jungle, and birdlife. Arrive at Crooked Tree Wildflife Sanctuary located at Mile 33 - Northern Highway. Crooked Tree is home to the Jabiru stork which is the largest flying bird in the Western Hemisphere having a wingspan of up to ten feet. Walking along the nature trails you may see hawks, flycatchers, herons, cormorants, roseate spoonbills. Exotic species such as the limpkin, northern jacana dnd least grebe may also be seen. This site is great for birdwatchers and offers excellent photo opportunities. Depart Crooked Tree at 11:00 a.m. for return drive to Belize City.

Mountain Pine Ridge Forest Reserve
Full Day Tour
Departures: Daily
Cost $135 U.S. per person (includes lunch, refreshments, and entrance fee to sites)

Morning departure by 7:45 a.m. via the Western Highway to Mountain Pine Ridge Forest Reserve which is teeming with hills, valleys, rivers and falls, swimming holes and caves all surrounded by the majestic beauty of pine forests. Bring along your walking shoes, your swim wear, and an adventurous mind for a full day of activity. Our three main stops are the Rio Frio Caves, the 1000-ft. Hidden Valley Falls (road conditions permitting), and a chance to cool off in the cool waters of the Rio On Pools. Box lunch is provided at the Pools. Bring along your binoculars as there is much to see in the line of exotic flora and fauna, endemic only to this extremely rugged, but beautiful part of the country. Return to Water Taxi terminal and onwards to Caye Caulker.


Xunantunich and The Belize Zoo
Full Day Tour
Departs: Daily
Cost: $135 U.S. per person (includes lunch, refreshments, and entrance fee to sites)

Tour departs from Belize City by 8:00 a.m. Drive for approximately 40 minutes on the Western Highway enroute to the wildlife habitat of Belize, the Belize Zoo. Here you can see over 100 species of native Belizean animals including Belize's national animal, the Tapir. Birds, crocodiles, howler monkeys and endangered species like jaguars all can be seen here in their natural setting. Tour lasts approximately 2 hours. Drive on for another 40 minutes to San Ignacio for delicious Belizean lunch at local dining facility. After lunch take a short drive to ferry crossing. Xunantunich (Maya for Maiden of the Rock) sits just inside the Western border of Belize. Before reaching the entrance of this ancient city, we are hand-cranked across the Mopan River by a nineteenth cebntury ferry. The Maya ruins of Xunantunich are actually located on one of the highest plateaus in the area and it is possible to climb to the top of "El Castillo", the largest of the temples at this site. From this vantage point, one gains a panoramic view of the Cayo District and nearby Guatemala. After tour embark on return drive to Belize City and return water taxi to Caye Caulker.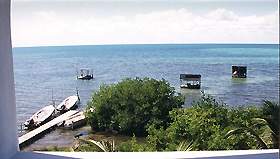 Panti Medicinal Trails & Cahal Pech
Full Day Tour
Departures: Tuesday, Friday
Cost: $135.00 U.S. per person (Includes lunch, refreshments, and entrance fee to sites)

Morning departure for short drive to point where you board a motorized canoe for a tour of the Macal River enroute to the Panti Medicinal Trail. Along the limestone cliffs of the River you look for parrots, toucans and iguana, as they hang precariously from the trees alongside the river. AT the Panti Maya Medicinal Trails your guide will point out plants and herbs still used by Belizeans for medicinal purposes. After lunch you start your return to Belize City with a stop at the Cahal Pech Maya Ruins. There you can see a small archeological site with corbel arch rooms that date back to 1000 B.C. Continuation drive to Belize City with return to water taxi terminal by 4:30 p.m.



Caye Caulker Travel and Tour Home | Accommodations | Airline Reservations
Babysitting Services | Boat Charters | Diving | Dive Certifications
Group Bookings | Real Estate | Snorkeling | Tours
CAYE CAULKER TRAVEL & TOUR
Front Street, Caye Caulker, Belize
Phone: +501-226-0370
Fax: +501-226-0371
Cell: +501-610-1465


Email belizeanthings@yahoo.com
Caye Caulker.org Home | Search | Island Information | Quick Facts (HELP!) | Goods & Services | Diving
Fishing | Lodging | Tours | Photos | Message Board | History | Activities
Page Hits © Copyright Island Girls